Finding The Best Weighted Stuffed Animal for Cuddling | Warmies®
There are hundreds of thousands of stuffed animals out there. There are big ones, tiny ones, and everything in between. But a lot of these stuffed animals are basic and don't carry any weight (literally!). Run-of-the-mill stuffed animals just sit there and don't really offer much in function or versatility. You may be thinking that stuffed animals don't necessarily have a purpose, but they should. That's where Warmies comes in!
Warmies is all about making the best Weighted Stuffed Animal Plush Toy that gives people comfort and joy. These plush toys are super cute and weighted to give you the comfort you need. This article will give you all of the information you need to decide if weighted or unweighted stuffed animals are right for you. We'll even showcase the top ten most popular Warmies for sale.
Are Warmies stuffed animals weighted or unweighted? 
Most of the stuffed animal toys out on the market are unweighted and not made to be microwaved. The Warmies Weighted Stuffed Animal, however, are all weighted and microwave-safe. Having a Weighted Stuffed Plush Toy is growing in popularity as they have great benefits for adults and children alike.
What makes a stuffed animal weighted?
Most of the weighted stuffed animals on the market are filled with poly-pellets, which are pellets made from dense plastic that gives an item weight. In the case of Warmies, our weighted stuffed animals do not include poly-pellets. Heating up plastic in a microwave can leak toxins into its surroundings which is not good for anyone. Instead, Warmies plush products are filled with dried flaxseed and layers of fabric to add weight. 
Is it good to Cuddle with weighted stuffed animals?
There's really nothing better than cuddling up with weighted stuffed animals. The average unweighted stuffed animal is cute and nice, but they don't give you the same added comfort that a nice hefty Warmies can. The added weight and extra bonus of lavender scent found in Warmies helps reduce anxiety in both children and adults. 
Do Weighted stuffed animals help with sleep? 
The feeling of a weighted plush toy is like a hug and can even help you fall asleep faster than a regular plush toy with no weight at all. The weight from these products, similar to weighted blankets, can help reduce your heartrate and calm the body. It's similar to the feeling of receiving a hug, where the pressure makes you feel comforted and at ease. This makes for ideal sleeping conditions, especially if you usually have trouble sleeping in general. 
What is the best weighted stuffed animal for Adults?
The best weighted stuffed animal for adults are the standard Warmies. These are appropriate for all ages and offer the heftiest weight of all Warmies stuffed animals. Adults can also enjoy other Warmies products that are designed for adults, which include wearables. Find your Warmies weighted stuffed animal.  
What is the best weighted stuffed animal for Toddlers? 
The best weighted stuffed animals for toddlers are the Warmies Juniors. Warmies Juniors are a tad smaller and lighter than the standard Warmies stuffed animals. Toddlers may even enjoy the Warmies Hugs, which comes with two small weighted plush toys that they can play with and be soothed by. The most popular design of each is the Sloth.
Do weighted stuffed animals help with anxiety?
Yes, weighted stuffed animals are a great way to help with anxiety. While studies and research in the benefits of weighted stuffed animals is limited, there have been extensive studies in the benefits of weighted blankets and their effects on anxiety. While they're not the same, weighted stuffed animals and blankets have similar intentions. The pressure of the weight helps reduce the heartrate and rapid breathing, thus reducing the agitating symptoms of anxiety.
A bonus of weighted stuffed animals is that they are less intrusive than weighted blankets. If you're claustrophobic, stuffed animals may be the best alternative for you.
What is the most popular Warmies Weighted plush animal? 
The top selling Warmies Stuffed Animal is the weighted Sloth Warmies. The sloth is a peculiar animal that has captivated people for its unique features and slow movement. You can get a Sloth Warmies in several colors, including brown, pink and purple.
The Most popular Warmies Weighted Stuffed Animals 
Warmies products are perfect for all ages and we offer stuffed animals for toddlers and older. Check out our most popular Warmies stuffed animal products below:
Cuddly and cute in the shape of a cow, this black and white plush toy is ready to be cuddled. It weighs 1.5 pounds and is over a foot tall. It is scented with real dried lavender and weighted to be the perfect companion for anxiety relief.
The purr-fect addition to your stuffed animal collection is this fuzzy calico cat plush toy. It's over a foot tall and weighs just 1.5 pounds. It can be put in the microwave for a comfortable heat or in the freezer to cool you off on a warm day. This plush toy is scented with real French lavender. 
Everyone's favorite exotic bear is the Red Panda. This plush toy comes fully equipped with a nice soothing weight, relaxing scent. and cuddly hugs. It's the perfect addition to your stuffed animal collection. Whether you have anxiety, trouble sleeping, or just want something to cuddle with, this is the plush toy for you. It's a Warmies plush toy perfect for all ages.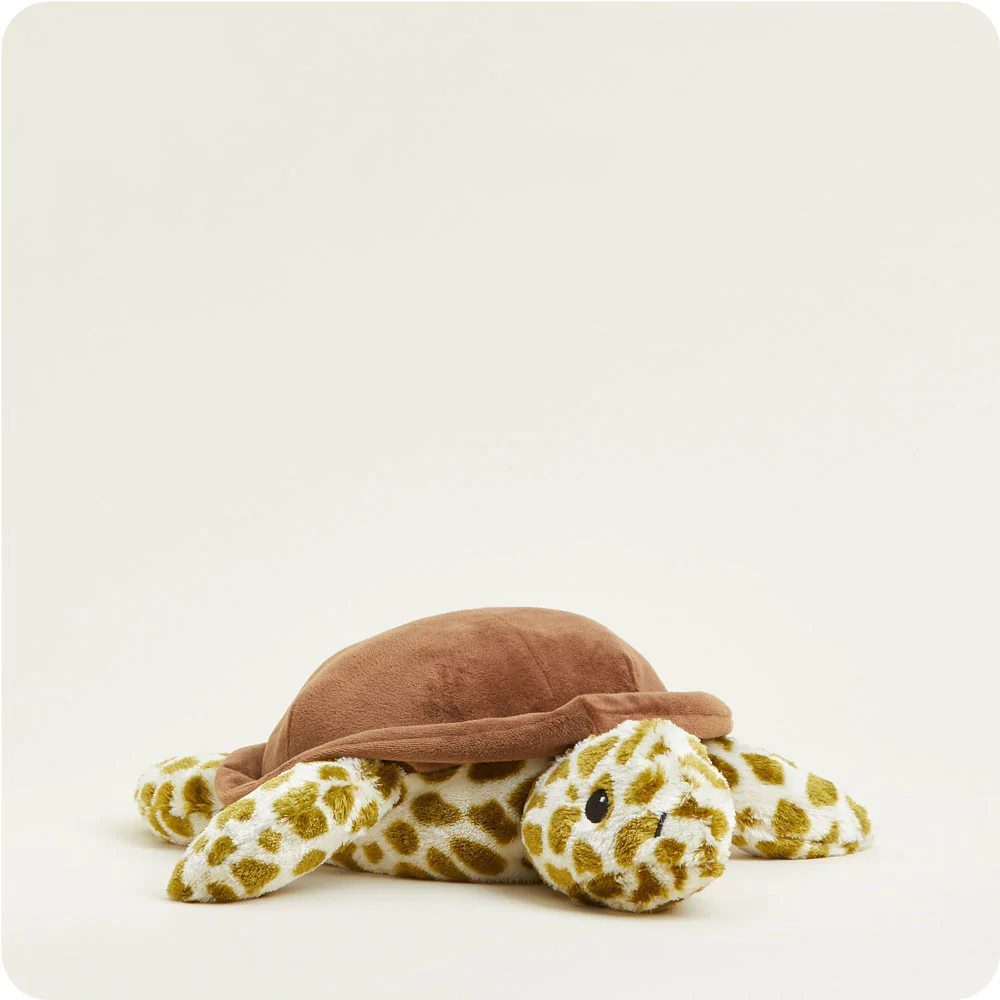 Dive into the deep sea of sleep with this Turtle plush toy. Like all Warmies, this is the perfect solution for relaxation and sleep. It has a nice weight of 1.5 pounds and comes scented with real lavender. It also happens to be in the perfect shape to lay right on your chest. 
There's no worry of being endangered with this Warmies plush toy. The Manatee plush toy is ready to give you the best night's sleep. This plush toy weighs nearly 2 pounds and comes scented with real French lavender. It's the perfect shape to sit right on your chest and give you the warmth or cooling effect that you need to relax.
This Warmies plush is here to give you the best night's sleep in a long time. The Gray Elephant weighs around 1.5 pounds which will give you adequate pressure no matter how you use it. This plush toy also comes scented with read dried French lavender, which is a relaxing and soothing scent. You can microwave or freeze this plush toy as you please.
The classic Teddy bear gets a makeover here at Warmies. Unlike the standard Teddy bear, Warmies Marshmallow Bear is weighted and scented. The scent you will enjoy is from real French dried lavender. This plush toy can be placed in the microwave for soothing warmth, or it can be placed in the freezer for a cooling sensation.
Llamas are cute, but not so much when they spit on you. Luckily, this plush toy gives you only the best when it comes to llamas: a cute look, cozy cuddles, and soothing scent. The Pink Llama is weighted to give you the extra comfort you need to go to sleep. It is also scented with real lavender to give you a boost in relaxation.
Man's best friend now comes in the form of a weighted plush toy. Unlike actual dogs, this weighted plush toy can be microwaved or placed in the freezer for different soothing sensations. This will also smell better than most dogs as it comes scented with real French lavender. 
The most popular weighted stuffed plush toy by Warmies is the Sloth. This plush toy comes in a variety of colors such as pink, purple. gray, and brown. It can be put in the microwave for soothing warmth. It can also be placed in the freezer for a cooling effect. Like with all Warmies, this comes scented with dried lavender.
Warmies Uses Only The Safest & Highest Quality Materials
It's clear to see that Warmies are products are superior to that of unweighted stuffed animals. Warmies are specially designed to be microwaved or placed in the freezer, all without the worry of degradation or the leaking of toxic chemicals. No matter which Warmies product you choose, each is designed with the best materials to give you the best experience possible. You can easily reduce your anxiety or your child's while also enjoying the cute designs and variety of colors. Warmies are the perfect kid-safe weighted products that will keep them and yourself safe, happy, and relaxed. 
If you have additional questions or concerns about Warmies products, check out the FAQ page or any of the extensive reviews available. 
---